Arkansas, is the 29th largest state in the US by land mass and the 32nd most populous. (wiki) Since the geography is diverse, Arkansas Land Clearing requires various methods to be effective. Below are the different regions of Arkansas.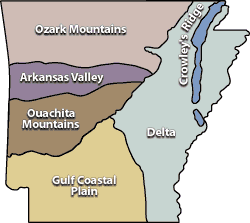 Clearing Land in the Mountains of Arkansas
From the Ozark Mountains to the Ouachita Mountains, the Arkansas Valley is nestled in between. Arkansas Land Clearing in the mountains is much different than clearing land and brush in the Arkansas Valley.The mountains require substantial manpower and equipment depending on the terrain.
Clearing Land in the Lowlands of Arkansas
Arkansas Land Clearing and brush grinding in the lowlands of the Gulf Coastal Plain and the Arkansas Delta is significantly less expensive and time consuming because of the land is flat and easier to access. The swampy areas can be a challenge, but for the most part Arkansas Land Clearing in the Gulf Coastal Plain is where Bushwackers Land Clearing typically likes to focus their attention.
If you are in need of Arkansas Land Clearing call Bushwackers Land Clearing 580-920-5039
Fill out the form below or give Jerry a call.
Call Jerry now: 580-920-5039
Let us know how we can assist your land clearing needs.