Bushwackers Land Clearing Services provides vegetation removal, hydro axing and brush mowing in North Texas and surrounding areas from Dallas to Oklahoma City and up to Stillwater and surrounding areas. With all of the forestry mowing terms out there it can be somewhat confusing as to exactly what is what, so our goal of this page is to explain Land Clearing Services in general terms and what they mean.
Land Clearing is generally the removal of trees, brush, shrubs and vegetation that is often done with chainsaws and hard labor. When you call Bushwackers Land Clearing you can simply tell us what trees you want to save and let us selectively clear your land. We use what are called forestry mulchers or forestry mowers that literally 'MOW' your brush and trees down to mulch. A forestry mulcher/mower is often called a hydor axe, brush hog, rotary cutter, shredder, or simply just a mulcher. In general terms these machines are all the same thing. Most of the names people use to explain Land Clearing Service Machines are general terms named after the equipment itself. Kind of like calling a pair of heavy pliers that clamps a 'vice grip', when in actuality that is just the most popular brand name. Same thing goes for crescent wrench; unless you are speaking of the brand 'crescent' it is simply an adjustable wrench. This is true for land clearing equipment as well. Hydro Axe, Fecon, Gyro Trac, Brush Hog, etc. These are all rotary cutting forestry machines that are used by land clearing services to clear land and mow the vegetation into mulch.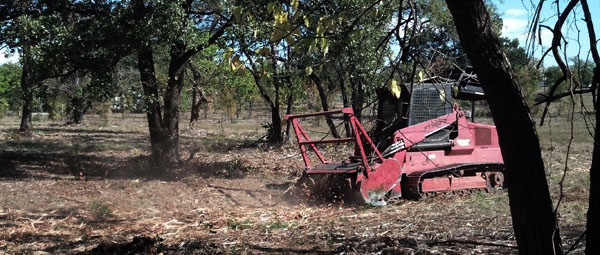 If you are looking for professional land clearing services, please give us a call. We would be happy to answer any questions and give you an idea of what it would take to clear your land!
Fill out the form below or give Jerry a call.
Call Jerry now: 580-920-5039
Let us know how we can assist your land clearing needs.