Texas is the second largest state in the United States and is also the second most populous. -wiki Located right in the center of the country the state of Texas encompasses 268,820 square miles of mountains, desert, forest, swampland, thicket, hill country and farm land. Texas Land Clearing can be a tedious and time consuming task so hire a professional company to clear your land for you.
---
HOW WE DO IT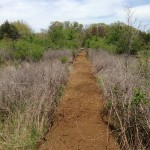 Whether it is pasture restoration, hunting access lanes, fence construction, or right of ways for utilities and pipelines, Bushwackers Land Clearing is the only company you need to call on for your Texas Land Clearing needs. We grind trees, bushes, brush and saplings into pure Texas mulch using our fleet of forestry mulching machines. We never leave any piles to burn and we always work with your land to provide an economical and environmentally friendly approach to clearing your Texas land.
NEVER USE BULLDOZERS
Bulldozers can cause major soil disturbances so we never use them for Texas Land Clearing! They also create massive piles of brush and trees that you have to burn or haul off. When you are under a burn ban who knows when you can rid your property of those unsightly piles. When we are finished with your Texas Land Clearing, we will have removed all the brush, trees and saplings you designate, and your land is ready to use immediately.
---
SELECTIVE CLEARING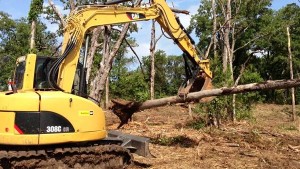 Selective land clearing is the process of clearing unwanted trees and brush without harming the trees you want to keep. We use our Caterpillar 308C Midi Excavator to clear areas that are either too rocky for our shredders and grinders to function, or have a steep incline, or are on a cliff face. The Excavator is the proper way to remove trees over 8″ in diameter.
We take great pride in our work and it shows in our results, and our testimonials.
Call Jerry now: 580-920-5039
Let us know how we can assist your land clearing needs.